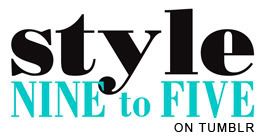 Wow, the hype that has gone with the Mad Men premier was unreal! I saw lovely ladies dressed in 50s inspired outfits on their way to the Madmen theme parties all over Vancouver! Banana Republic was smart to offer a special Madmen promotion for their vintage looking frocks. Take a look at these photos from an actual Madmen theme party held by Nicole the owner of NTL Art + Design. I love the outfits, and the fact that vintage cocktails were served. Holding a theme party is a lot of fun, especially if you pay attention to detail, and I love that all the guests get involved, it's a great way to get friends together!
By: Jo BouSaleh, Vancouver of Hunter and Hare
Are you an employer? Post your job here.
Are you a job seeker? Find fashion jobs here.
Posted on Monday, April 9, 2012
|
0 notes
| tagged as:
about
Style Nine to Five is a fashion career website for Canada - Vancouver, Calgary, Toronto and Montreal! Find great opportunities in the industry and advice from top leaders in the industry!
fashion jobs