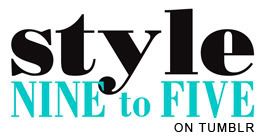 Oh yes, the beachy glory days of summer are headed our way. It's starting to feel like it, isn't it? Well we best be ready when we get there, and what might be our best accessory to a tan (a safe one of course)? Why jewelry, certainly. This year we are getting more relaxed—at one with nature. We know fluorescence doesn't occur naturally and that is neither here nor there. The point is organic fibres be it threads, feathers, stones or shapes is what we are after. If it's the least bit tribal or surfer, it's whats happening right now. So Mr. Sun come play with us, we have jewelry to wear!
1. Bracelets Dezso by Sara Beltran various prives, $60 and up,  available at libertineboutique.ca
2. Studs by Maria Moran at Charlie and Lee, $105, available at Charlie and Lee
3. Aldo Pink Skull necklace, $12
4. Necklace by Birds of a Feather, available at One of a Few
5. Lovechild bracelet by Jen's Pirate Booty at, $48, available at Urban Outfitters 
6. Peruvian bracelets $10, available at Planet Blue 
By: Kate Horsman or Bullet With Butterfly Wings, Vancouver
You should follow me on Twitter @lilkatehorsman.
Are you an employer? Post your job here.
Are you a job seeker? Find fashion jobs here.
Posted on Tuesday, May 8, 2012
|
0 notes
| tagged as:
about
Style Nine to Five is a fashion career website for Canada - Vancouver, Calgary, Toronto and Montreal! Find great opportunities in the industry and advice from top leaders in the industry!
fashion jobs