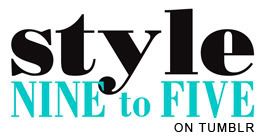 Wow, the hype that has gone with the Mad Men premier was unreal! I saw lovely ladies dressed in 50s inspired outfits on their way to the Madmen theme parties all over Vancouver! Banana Republic was smart to offer a special Madmen promotion for their vintage looking frocks. Take a look at these photos from an actual Madmen theme party held by Nicole the owner of NTL Art + Design. I love the outfits, and the fact that vintage cocktails were served. Holding a theme party is a lot of fun, especially if you pay attention to detail, and I love that all the guests get involved, it's a great way to get friends together!
By: Jo BouSaleh, Vancouver of Hunter and Hare
Are you an employer? Post your job here.
Are you a job seeker? Find fashion jobs here.
Posted on Monday, April 9, 2012
|
0 notes
| tagged as:
As we were considering the idea of ladylike style, a handful of associations immediately came to mind. Some referenced history (pristine white gloves, restricting undergarments, slim-silhouettes and modest hemlines) and others the most talked about TV shows (Mad Men, Boardwalk Empire and Downton Abbey). Meanwhile on the spring runways we saw Alexander McQueen and Dolce & Gabanna channel their ladylike interpretations with a colour scheme of sweet peachy hues, pretty pinks and champagnes. Inspire your own wardrobe with handbags, cardigans, dresses and pumps finished with girly trims of bows, lace, peplums and ruffles.
1. Dolce & Gabanna S/S12
2. Alexander McQueen S/S12
3. Bow Bridge Kennedy Bag US $445 Katespade.com
4. Milly Wool Cardigan US $275 Net-a-porter.com 
5. Hybrid Frill Sleeve Dress $155 ASOS 
6. Rosale Patent Pumps US $160 Steve Madden 
7. Lace Top $22 Forever 21 
8. Pearl Earrings US $84 J. Crew  
By: Daniela DiStefano, Toronto
You should follow me on Twitter @ddeestefano.
Are you an employer? Post your job here.
Are you a job seeker? Find fashion jobs here.
about
Style Nine to Five is a fashion career website for Canada - Vancouver, Calgary, Toronto and Montreal! Find great opportunities in the industry and advice from top leaders in the industry!
fashion jobs