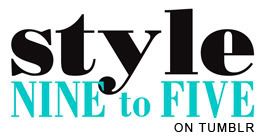 My absolute favorite trend of this season is the denim vest. Although I can never get enough of my go-to jean jacket that I wear with everything, a denim vest is the perfect lightweight alternative for the summer months.
It's a great layering piece that is extremely versatile and can add a touch of edginess to practically any outfit. Try wearing a denim vest over a colourful maxi dress, printed shorts and tank top, or cropped jeans and a graphic tee for a chic and casual look. A denim vest also looks great contrasted against a simple black sundress or an all-white ensemble (especially white lace!)
Stores such as Forever 21 currently carry a large selection of denim vests in variety of hues (from washed-out to super-dark) and styles (motorcycle, cropped, oversized etc.). Don't be afraid to branch out of your comfort zone this summer and try a vest that isn't your typical light-blue denim. Try ombre, coloured or patterned denim, or a denim vest with hardware features such as studs, spikes, and rhinestones. You can even DIY your own denim vest at home by cutting the sleeves off an old jean jacket and adding a variety of embellishments!
1. Levi's Denim Trucker Vest, $68, available at Urban Outfitters
2. Nasty Gal Badlands Denim Vest, $68.22
3. Forever 21 Floral Studded Denim Vest, $35.80
4. Forever 21 Spiked Denim Vest, $33.80
5. Love Culture Acid Cropped Denim Vest, $34.90
6. Forever 21 Bejeweled Utility Vest, $35.80
7. Tobi Cotton Candy Denim Vest, $69
8. Free People Macramé Cargo Vest, $120.47, available at Revolve Clothing
By: Faryn Wegler, Toronto
(Source: styleninetofive.com)
Posted on Tuesday, July 2, 2013
|
3 notes
| tagged as:
granolaandspice likes this
sartorially-savvy likes this
styleninetofive posted this
about
Style Nine to Five is a fashion career website for Canada - Vancouver, Calgary, Toronto and Montreal! Find great opportunities in the industry and advice from top leaders in the industry!
fashion jobs