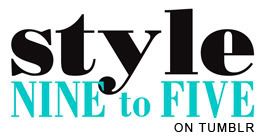 We would like to share our exciting news with you!
From fashion to beauty, Style Nine to Five launches Beauty Nine to Five. With the popularity and success of Style Nine to Five, founder Christie Lohr introduces a brand new website for beauty job seekers and employers.
Following the footsteps of Style Nine to Five, Beauty Nine to Five is a career website providing qualified candidates to companies of all sizes. The beauty industry has experienced a growing demand for job recruitment and Beauty Nine to Five is the perfect resource to start your dream career. With job postings such as hair stylist, esthetician, beauty editor, and make-up artist, jumpstart your beauty career with Beauty Nine to Five.
An additional feature of the site is the resume database, currently being updated, which will soon allow employers to view the best candidate resumes from all fields. These resumes are pre-screened, qualified applicants with positions such as 'Make-Up Artist', 'Hair Stylist' and 'Beauty Writer,' another great way to find the ideal candidate.
Christie Lohr has been a Retail Recruiter for the fashion industry, as well as a Store Manager, Buyer, Fashion Writer, and 'Fashion Expert' for local TV, such as CTV Morning Live. Having understood the difficulties involved with recruiting and screening hundreds of resumes on general job sites, she realized the demand for such a service and developed Style Nine to Five and now Beauty Nine to Five.
Posted on Wednesday, July 11, 2012
|
2 notes
| tagged as:
itwaslikeadreamcometrue likes this
styleninetofive posted this
about
Style Nine to Five is a fashion career website for Canada - Vancouver, Calgary, Toronto and Montreal! Find great opportunities in the industry and advice from top leaders in the industry!
fashion jobs