Do you know where your shirt was made? How about the person who made it? Most of the fast fashion we're drawn to has a backstory that we'd rather be ignorant about. But a trending wave, that's gaining traction fast, is socially conscious clothing. Companies are making a point about transparency, who makes their clothing, what materials they use, and why it's priced a certain way. Many of these lines also give back a portion of sales to different organizations and initiatives.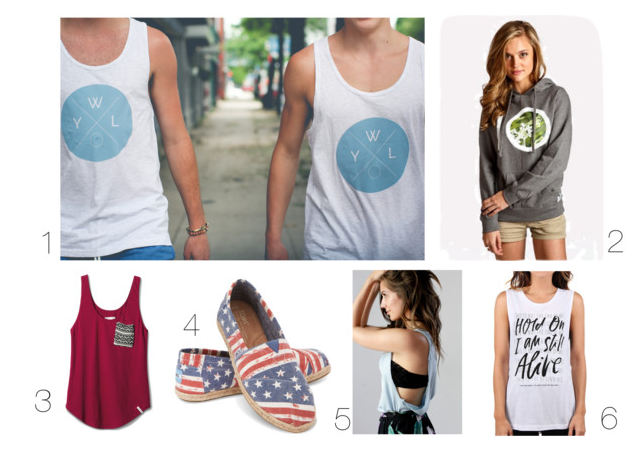 1. XO Tank, $32.97, available at Wear Your Label
2. Lakamo Hoodie, $69.99, available at Ten Tree
3. Women's Washed Pocket Tank, $30, available at Toms
4. American Flag Women's Classic, $54, available at Toms
5. Custom Cut Tank, $32.97, available at Wear Your Label 
6. Christina Perri Shirt, $24, available at To Write Love on Her Arms
Personally, this is one of my favourite trends to come about. Since my teenage years I've been dreaming of starting my own fashion line that sets straight so many of the unethical policies currently used in the industry. Evidently, I was stunned when the conscious clothing line I started with a good friend took off in a matter of months. Wear Your Label is our clothing brand, that uses fashion to create conversation about mental health. We use sustainable fabrics and packaging, screenprint every item by hand, write our customers letters, and give back to different mental health initiatives. Whether you're a fighter, survivor, or supporter of mental health, Wear Your Label provides stylish and comfortable clothing for you. It's a way to become a part of a community that is bigger than yourself. Companies like these are shaping the new fashion industry, and I can't wait to see how the dominoes continue to fall!
By: Kayley Reed, Fredericton, @wanderrluust
Are you an employer? Post your fashion job here.
Are you a job seeker? Find fashion jobs here.
Don't forget to follow us on Instagram for the latest fashion jobs, career advice and fashion trends!